Already a member? Log in.




Not a member? Sign up!
Cities
Topics
Projects
Culinary Walks |
Explore our Food Tours →
Our trip to Taquería Los Parados in Roma Sur last month began like any other: we gathered up four friends and began the trek to this beloved taco spot. But the dark, moody sky threatened rain, and in anticipation of a gushing downpour, we piled into a cab minutes before the first giant, icy cold rain drops began to pelt down.
As was so often the case on July and August evenings in Mexico City, we were at the mercy of the Aztec rain god Tlaloc.
Our destination, Los Parados, is one on a short list of taco joints usually shouted at full volume to rally the hungry boozers after a Roma-Condesa bar crawl. On this night, however, it was the taxi itself getting sloshed.
As great lakes formed rapidly in side streets, our cabbie steadfastly dodged the blur of swirling headlights, zigging and zagging to our destination. Glad to have avoided traveling by foot through the sudden deluge, our group spoke in excited tones about all the tacos we were going to eat to satisfy our grumbling stomachs.


Los Parados' sparse décor and assembly-line efficiency – its massive grill takes up more space than the entire counter – serves the Mexico City institution well. A well-orchestrated blur of staffers, each with their own task, caters to the waves of hungry patrons that stream in from noon to the early morning hours.
After the taxi pulled over to the shoulder in rush hour traffic, we took turns leaping across a great puddle barring our entrance to the taquería. Once inside we welcomed the broiling heat coming from the grill before us, the rain already steaming off our bodies.
Of the chain's three locations, this spot in the heart of Roma Sur is nearest and dearest to our heart – we've been here many times before. Yet looking at the wide array of goodies available on the big yellow menu, we found ourselves unable to decide between the many delicious possibilities.
But it was a Monday night, which is when 2-for-1 tacos al pastor are on offer, so we quickly decided to start with that.
Tacos al pastor, a variant of the shwarma that was brought to Mexico by Lebanese immigrants, have become an essential element to any DF dining experience. The attendant posted by Los Parados' vertical meat spit made quick work of the layers of seasoned pork, forming the iconic cone of meat on the tortilla before covering it with grilled pineapple.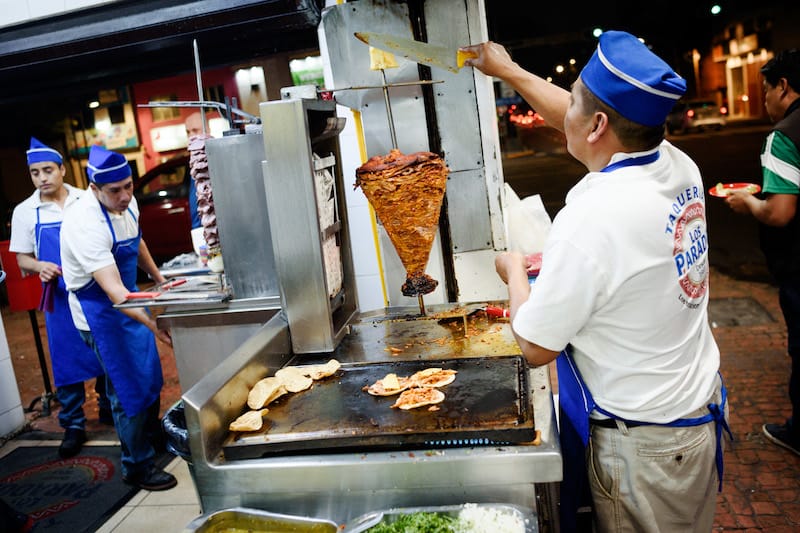 The options at Los Parados break down as follows: tacos, combo tacos, tacos made with pan arabe (or pitas, another vestige of the Lebanese tradition), queso fundido (melted cheese) dishes, volcanes con queso (literally cheese volcanoes, with the cheese heated in mini-crucibles and poured over a tortilla), desserts and drinks. (We have yet to try the flan or arroz con leche, because even though they always sound tempting, we've never had room at the end of the meal.)
In addition to the scores of tacos al pastor, we ordered arrachera (spiced skirt steak strips) tacos with chile poblano, chicken tacos with nopal (cactus), a volcano con queso, as well as an order of fresh avocado slices, generously portioned, and cebollitas, grilled green onions.
We also ordered tacos pastor de arrachera – a crossover of styles made famous by Taquería Los Parados, in which cuts of beef (rather than pork) are grilled on a vertical spit al pastor style. As we waited for the food, watching dish after dish come out still sizzling, we gluttonously ordered a giant chicharron de queso (cheese fried on the grill to a crisp and rolled into a cone) to munch on.
Tacos al pastor have become an essential element to any DF dining experience.
In between bites, we chatted with grill master Edgar, who told us he'd been working at Taquería Los Parados for three years. He likes the job just fine and doesn't particularly mind the throngs of drunks coming in late at night – sometimes it's even fun.
When we asked why it was called "Los Parados," he grinned, swept his hands outward, and said, "No chairs."
"Parar" can mean to stop or to stand in Spanish, and doing a little digging, we found that "tacos parados" is really just a general term for any place where you can stop by, take a lean and enjoy a quick taco.
Edgar doesn't know much about the spot's history, only that the owner is known as Doña Toña, it was opened in 1965 as a diner and slowly evolved into what it is today. And, he added, this is the first and only location that does not in fact have chairs to sit on – the only truly "Tacos Parados."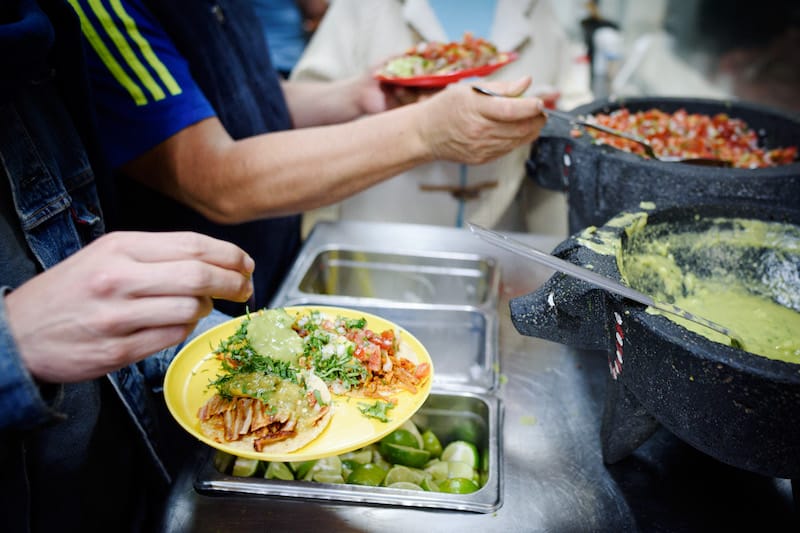 As our tacos arrived and we began eating, we couldn't help but think that the lack of chairs, assembly-line food production and Spartan décor reflect the utilitarianism of a taco – meat plus tortilla, no fuss. Such a place has worked so well for so long because it reliably serves its purpose. It's a staple locals know is always there, open way into the night. There's no need to find a table, just shuffle in, wait your turn and before you know it, you're leaning into a crook in the wall having some meaningful face time with a taco.
To wash down the meal we ordered some fresh agua de jamaica (hibiscus water) and horchata, both of which cooled the bubbling cauldron in our guts. We also made sure to check out the luxurious array of salsas, attempting to mix and match to try and taste every combo.
By the end, we were all pleasantly light-headed as blood rushed to digest the ridiculous meal, which cost a total of about 510 pesos (US$27). With our stomachs stuffed, we were ready to face the cold rain that lurked in the growing darkness outside.
loading map – please wait…