Aunt Rita's Foundation will celebrate World AIDS Day to raise awareness for the fight against HIV with its inaugural Picnic in the Park, from 11 a.m. to 3 p.m. on Saturday, Dec. 3 at Portland Parkway Park, 200 W. Portland St., in Phoenix.
Already have an account? Log in to continue.
Current print subscribers can create a free account by clicking here.
Otherwise, click here to subscribe.


To Our Valued Readers –
Visitors to our website will be limited to five stories per month unless they opt to subscribe. The five stories do not include our exclusive content written by our journalists.
For $5.99, less than 20 cents a day, digital subscribers will receive unlimited access to YourValley.net, including exclusive content from our newsroom and access to our Daily Independent e-edition.
Our commitment to balanced, fair reporting and local coverage provides insight and perspective not found anywhere else.
Your financial commitment will help to preserve the kind of honest journalism produced by our reporters and editors. We trust you agree that independent journalism is an essential component of our democracy. Please click here to subscribe.
Sincerely,
Charlene Bisson, Publisher, Independent Newsmedia


Click here to see your options for becoming a subscriber.
Click here create a free account for posting comments. Note that free accounts do not include access to premium content on this site.
What: Picnic in the Park
When: 11 a.m.-3 p.m. Saturday, Dec. 3
Where: Portland Parkway Park, 200 W. Portland St., Phoenix
More Information: auntritas.org
Aunt Rita's Foundation will celebrate World AIDS Day to raise awareness for the fight against HIV with its inaugural Picnic in the Park, from 11 a.m. to 3 p.m. on Saturday, Dec. 3 at Portland Parkway Park, 200 W. Portland St., in Phoenix.
Sponsored by the Matthew B. Harty Family Foundation, Picnic in the Park "honors loved ones lost to the epidemic and celebrate the advances in treatment and prevention that move us closer to ending the epidemic," Aunt Rita's Foundation Executive Director Jimmy Thomason shared in a statement.
Picnic in the Park also offers the opportunity to view the National AIDS Memorial Quilt displays, Thomason said.
"We encourage people to bring their picnic blankets and spend the day relaxing, sharing the meaning of the day and catching some sun," Thomason said. He asked that attendees not bring pets to the event.
The theme for World AIDS Day 2022 is "Putting Ourselves to the Test: Achieving Equity to END HIV," and encourages people across the globe to eliminate disparities and inequities that "create barriers to HIV testing, preventing and access to HIV care."
World AIDS Day was first observed in 1988.
According to the World Health Organization more than 84 million people have been infected with the HIV virus since the beginning of the epidemic which has claimed the lives of nearly 40 million men, women and children. In 2021, 650,000 people died of HIV-related illnesses worldwide.
In the U.S., HIV.gov reports that approximately 1.2 million people are living with HIV and nearly 13% are unaware they are infected. HIV continues to have a disproportionate impact on certain populations, particularly racial and ethnic minorities and gay, bisexual and other men who have sex with men.
"The fight is not over," Thomason said. "We have won and are winning some battles, but with nearly 35,000 new infections reported by the CDC in the U.S. in 2019, we have much work to do."
With roots in Phoenix since 1988, Aunt Rita's Foundation is dedicated to the elimination of and suffering from HIV and AIDS through collaborations with Arizona HIV service organizations and local and statewide government agencies. Aunt Rita's Foundation helps fund HIV programs at 14 nonprofit organizations through more than $2 million in grants.
Visit auntritas.org.
Click here to buy tickets.

Other items that may interest you
Most popular stories in Daily Independent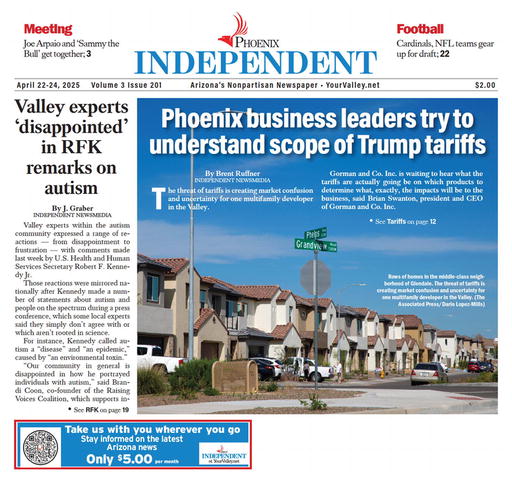 Read the latest print edition here.
View this issue
Browse other issues
DON'T MISS A BEAT: Simply submit your e-mail address below, click on the opt-in email link and watch your inbox for news from the Daily Independent at YourValley.net. Thank you for reading!
WAVERLY, Ohio (AP) — Jurors convicted a man Wednesday in the killings of eight people from another Ohio family after weighing his denials and other testimony against the word of witnesses, …
New COVID numbers: this part of Glendale has the city's most cases
Mesa Community College program earns national accreditation
LA Kings put goaltender Cal Petersen on waivers
Sports on TV joins turkey, parade as holiday traditions
Ukrainian Olympian auctioning medals to help war effort


YourValley.net
623-972-6101
17220 N Boswell Blvd
Suite 230E
Sun City AZ 85373
Email: azdelivery@iniusa.org