Albuquerque-based restaurant Little Anita's will be opening its first Arizona location in the former Juan Jaime's spot at 2510 W. Chandler Blvd., Chandler. This New Mexican restaurant …
Already have an account? Log in to continue.
Current print subscribers can create a free account by clicking here.
Otherwise, click here to subscribe.


To Our Valued Readers –
Visitors to our website will be limited to five stories per month unless they opt to subscribe. The five stories do not include our exclusive content written by our journalists.
For $5.99, less than 20 cents a day, digital subscribers will receive unlimited access to YourValley.net, including exclusive content from our newsroom and access to our Daily Independent e-edition.
Our commitment to balanced, fair reporting and local coverage provides insight and perspective not found anywhere else.
Your financial commitment will help to preserve the kind of honest journalism produced by our reporters and editors. We trust you agree that independent journalism is an essential component of our democracy. Please click here to subscribe.
Sincerely,
Charlene Bisson, Publisher, Independent Newsmedia


Click here to see your options for becoming a subscriber.
Click here create a free account for posting comments. Note that free accounts do not include access to premium content on this site.
Albuquerque-based restaurant Little Anita's will be opening its first Arizona location in the former Juan Jaime's spot at 2510 W. Chandler Blvd., Chandler. This New Mexican restaurant offers breakfast, lunch and dinner options, with enchiladas, burritos, nachos, sopaipillas and more. The company plans to open numerous other locations in Arizona as well. No opening date has been announced. www.littleanitas.com 

Alexa D'Angelo
Reporter | Chandler
@adeangelo15
adeangelo@iniusa.org
Alexa D'Angelo covers the Chandler area and has been covering that community since 2019. Alexa is a born-and-raised Arizonan and has lived most of her life in the West Valley. She has covered everything from local school board meetings to wildfires in southern California and has reported in Phoenix, Los Angeles and Ventura. In her free time, you can find her at a workout class or reading a book.
Other items that may interest you
Most popular stories in Daily Independent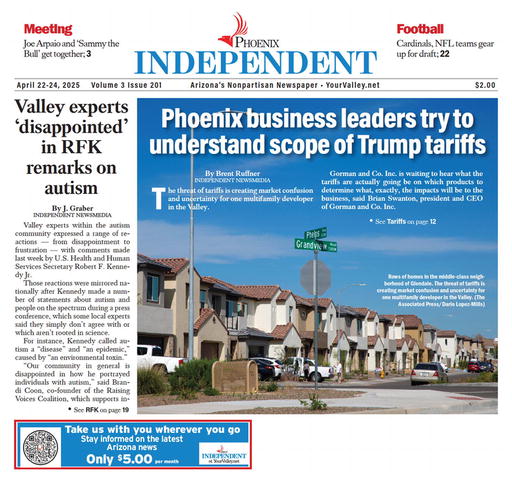 Read the latest print edition here.
View this issue
Browse other issues
DON'T MISS A BEAT: Simply submit your e-mail address below, click on the opt-in email link and watch your inbox for news from the Daily Independent at YourValley.net. Thank you for reading!
The Dallas Cowboys tight ends played their own live version of 'Whac-A-Mole.' The unique celebration followed a touchdown in the Cowboys' 28-20 win over the New York Giants. After rookie Peyton …
Jason Scrivener has early 2nd-round lead at Australian PGA
Woman found liable, ordered to pay $300 in Conley allegation
AP Week in Pictures: Asia
Prescott, TEs help Cowboys to Thanksgiving win over Giants
Ace Hardware planned in Cadence in Mesa


YourValley.net
623-972-6101
17220 N Boswell Blvd
Suite 230E
Sun City AZ 85373
Email: azdelivery@iniusa.org