Once we crossed the border we had about 14 miles to our meet up point with my mom. We have been so well supported by our family and friends for the entire trip. We thought that once we got into the north the love would only be from a distance, but my mom drove up to meet us again! This time she planned to spend a week with us!
We thought these big rocks were funny..
We wanted to do 2 short breaks but our first break turned into a long break because of a slow water situation. While waiting for Pinky to return with water I met Phoenix (later trail named Wristwatch because he forgot to bring a watch!) on his first day hiking the Long Trail.
The first 100 miles of the AT in Vermont coincides with the Long Trail. Completed in 1930, the Long Trail was the first long distance trail built in the US! It runs the length of Vermont, terminating at the Canadian border. So for 100 miles AT hikers share the trail and there's a lot of this going on-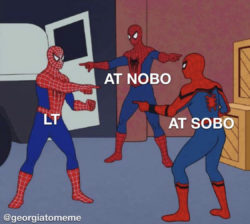 We also met a big group of trail maintainers on their way to close up the privy. A new shelter is being constructed a few miles north of where we were and we were there on the last day of the old shelter's official life. The maintainers were hilarious and in a way better mood than expected, given they were about to be playing with poop.
The wettest mud we saw in Vermud
Hiking in Vermont was instantly different. It's nickname is "Vermud," we quickly saw why. It wasn't terrible, though. Thanks to the drought most of the mud was dried up.
Still got beaver ponds tho. This was a particularly well maintained dam.
We covered our remaining miles as quickly as we could but it was still dusk when we made the steep descent to the parking lot. That did mean we got a nice golden hour view from the top of the hill.


We had a rough descent to the road. It was really steep and had big stone steps.


Mommy (trail name Banana Bread) greeted us with big hugs and cold beers.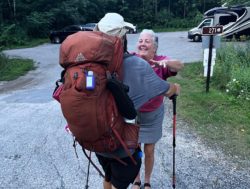 She got us a campsite at a cute campground just a few miles up the road. She had already checked in and gotten the full scoop on the place. The lodge used to be a hostel but between COVID and aging caretakers the hostel is no longer running.
The campground was perfect. The only con was that it lacked laundry, but we weren't far from Bennington where we could use a laundromat. The showers were excellent. But the best part was how quiet and dark the campground was at night. We slept very well in Vermontica (the RV's Vermont trail name.)
The next day we took a zero so we could hang out at the trail head with Banana Bread to do trail magic. Previously we have hiked and gotten the tail end of her trail magic. We wanted to get to hang out and see all the hikers, too!
It was exactly as fun as we hoped it would be. All our friends came through! (With the exception of Lumen, Jazzy, Blue Skies, Nick at Nite, Savory and Solitaire- our old old friends from the south. We had been a week behind them for quite some time but learned from Renee that we were only a day behind them now! They were in Bennington and we thought they might come through, but they stayed another day in town.)
Banana Bread's banana bread was a huge hit, once again. Several hikers she had met the last time were back- Pie (more of a pumpkin bread than a banana bread fan, but mom had that too!), Little John, Almost, Weezy, and Rivers. We met a few new NOBO faces but were surprised to see no SOBOs all day! We had been outnumbered by SOBOs at Upper Goose Pond but the stream had slowed significantly since then.
We loved getting to enjoy the company of Banana Bread and our hiker friends all day with no pressure to hike. In the mid afternoon we packed up and headed into Bennington to do laundry and pick up our bumped package. Bennington was very cute. It's a college town so it's full of breweries, art galleries, and painted animal statues.
Moose alert!
Meow!
While waiting for laundry, we strategized. Banana Bread had about a week to spend with us and was down to help us slack pack. There were few Vermontica-approved roads ahead so we'd have to utilize some shuttles to make it work. We came up with a pretty good plan. It would have us do a 22 mile day the next day, followed by two 17s and a 14. We'd need to use a shuttle each morning but could meet Banana Bread and Vermontica at the end of each day.
To fit into our shuttle drivers schedule and get on trail at a "decent" time we had to get up at 5am the next morning. Dave picked us up at 5:30. Banana Bread sent us off with a delicious breakfast sandwich each, plus one for Dave. She is amazing.
Dave took us to the trailhead via the "scenic route." We spent the majority of the 45 minute drive on surprisingly nice, but narrow, forest service roads. It was early and we passed many car camping sites. He pulled over at a marshy area where he said he always looks for moose, but hasn't seen any himself. Once, he arrived just after other people saw one.
We were flabbergasted! We didn't know Vermont was moose territory! We thought we'd have to wait till Maine. Now that we knew, we were on Moose Watch.
Dave was full of fun facts- both about the trail and Vermont in general. Both of our rides with him were very entertaining and informative!
He dropped us off at the trailhead and we got moving around 6:45! An impressively early time for us. It was a wonderful time to be in those woods. We passed a lot of water- creeks and bogs (we paused to look for moose at every bog.) The trail was pine needle soft. The woods were damp and mossy.
Despite the early start and the fact that we had 22 miles hanging over our heads… we did not move quickly that morning. For whatever reason it took us a long time to kick into gear. Plus we took an early, and long, break at the shelter. That was fun, though, because we ran into PK, and Shake and Bake- a couple we haven't seen since Damascus! And we got to pet a section hiker's good dog.
Since we were walking south, around mid-morning we had about an hour when we passed everyone we had seen at trail magic the day before. We stopped really often to chat.
Pinky commented that we must have missed Lumen and co because we hadn't seen them yet. I figured they just left town late and we might still see them. Not even 30 minutes later, who comes around the corner but Lumen! We last saw him with Jazzy and Blue Skies on the WV border, about to do the 4 state challenge. We were so happy to see him! The rest of the gang was not far behind, it was very exciting running into them for the next few miles.
It's so wild how people move around out here. You'd think we'd get used to running into people unexpectedly but it never gets any less exciting. You could be half a day away from someone for weeks and never know it. Then one day BAM there they are and then you never see them again or you spend the next few weeks together. It's been especially fun catching up with people from early on in the journey now that we are getting close to the end. It feels like coming full circle.
Then it was mid afternoon and we were at the fire tower, 10 miles away from the end… We had to climb up to see what we could see.


We saw rain clouds! We watched them moving towards us for about 15 mins, just before it hit we climbed down.


We were less than 5 mins from the shelter below when it started raining. We took cover, meeting Nick at Nite and Savory, and waited out the rain while filtering water. Just before we left, Mayflower arrived and introduced us to Franklin's Mom.
We still had 9.5 miles to go and it was about 3pm. It was all downhill from there. We actually moved pretty quickly, and hardly got wet! Though it did stay chilly, I kept my jacket on.
Just as it was getting too dark to see, we heard the road below us. We pulled our headlamps out for the last 10 minutes. Once again, we had mommy hugs and cold drinks waiting for us. Followed by showers at the campground and another delicious dinner. The slack pack life is good.
The next morning was much less early than before, Dave was coming for us at 9. We felt better than expected, much better than after our last 22 mile day. We were pretty confident we could do the 17 miles we had planned.
Dave took us a different way to the trail head this time. We drove down Hwy 100 and got a tour of small town Vermont and one of the big ski areas, Mt Snow. It was a beautiful drive.
We got on trail a little before 10. This day we'd be hiking north. Right off the bat, we started climbing Stratton Mt, another fire tower in our future! We were a little nervous about the climb, it was a big one, but southern Vermont is CHILL y'all! It hardly felt like we were climbing for most of it. The trail itself was smooth, there were switchbacks and a gentle grade. It was an absolute pleasure to climb that mountain.


When we got up to the top it was cool, we could tell it would be windy in the fire tower and we might be socked in. There were a few other hikers around, attempting to dry out gear that had gotten soaked in heavy rain the night before. Our friend Johnny Walker was there! We hung out up top together.
It was an absolutely beautiful experience. Initially, the clouds did have us socked in. But then, the wind blew! And the clouds moved! We had constantly shifting views of the surrounding mountains, valleys and lakes. It was incredible.


Sadly, we had to climb down at some point, so other hikers could take our place. (These fire towers are not big, barely space for 4 people in them and that is tight!) We snacked at the bottom then headed off to continue our day. Next up, Stratton Pond!
Much like Massachusetts, Vermont is full of ponds! Stratton Pond has a shelter and camping on its banks. We wanted to pause to eat lunch there. When we arrived, it was cool and quite windy. I put my rain jacket on and we ate our lunch there anyways. It was a beautiful, peaceful view.


Johnny Walker rolled up after about 15 mins or so and joined us. He's just a delight to be around, we thoroughly enjoyed leap frogging with him that day.
After the pond, the trail was basically flat! It was a day for cruising. And cruise we did!! We made it to a view point off some rocks in the late afternoon, maybe 4:30.


We sat down to eat a quick snack. A few minutes later our buddy Lumen came up! Our quick snack got longer as we chatted with him and then Jazzy arrived. They were both trying to get into Manchester that night, the town we'd also be staying in. We offered them a ride down in Vermontica.
Lumen and Jazzy generally hike waaay faster than us. But we were slack packing, it was chill terrain, and we were feeling good! We pushed ourselves and got to the road maybe 15 mins after Jazzy! This felt like an accomplishment to be proud of.
We dropped the boys off at the VFW- the only "hiker friendly" place in the extremely bougie town of Manchester Center. Down the block from the VFW you can find a Ralph Lauren, Vineyard Vines, and Michael Kors, to name just a few of the high end shops we drove past. We also handed out a few beers and sodas. There were probably 20 hikers camping in the yard there!
Since we were in Vermont we felt we had to go for some Ben and Jerry's. There was one right around the corner from the VFW, but when we rolled up they had already closed. Devastating.
Our disappointment didn't last too long, though. We were a short drive from the campground. It was another cute one, with great showers. We had another incredible dinner and hopped into bed.
The next morning we got a ride from Jackpot. You might remember him from the Warwick Drive In experience. He's still around, following his tramily north and shuttling hikers around. He's become a pretty essential member of the community.
He picked us up at 7:30. We once again had delicious breakfast sandwiches from mommy to eat on the way. He took us to another forest service road and sent us on our way, making sure we had all our essential gear items with us. Today we were walking south again, we were curious about who we'd cross this time!
First, we passed Bacon! She was in a better mood than the last time we'd seen her, and that made us happy. We had a good chat and caught up on the last few days.
We crossed Big Branch, a nice mountain river with some lovely stealth sites, swimming holes, and a cute suspension bridge!


Then we climbed up Baxter Peak. It was another gentle, chill climb. The top has some open rocky ledges with cool views to the other ridge across the valley.


Just before the ledges we ran into Knees. He told us he and Sushi were doing the same slack pack as us. We talked about the possibility of sharing a shuttle back the next morning. We also got mildly confused about the direction of the trail over the rocks together… but we figured it out.
Coming down from Baxter was tricky but we made it. Then it was pretty smooth sailing over to Griffith Lake. It was a beautiful lake. I was sad that we weren't camping there.


Then we went through some boggy stuff, crossed a beautiful rushing stream, and found ourselves at the shelter. We ate lunch with Knees and Sushi. They hurried off ahead of us. Of course, we lollygagged a bit longer.
Next, we began the climb up to Styles Peak (styles before miles!) Once again, it was a fun, chill climb. Another mossy, good smelling forest. We were really enjoying ourselves. Because we were going south, we again crossed paths with friends and paused for many chats.


After Styles, we went down quite a ways… just to go back up for 2 miles to the peak of Bromley. I was really excited about this one because I knew it was part of a ski resort and had a ski lift on top!
Just as we got to the road at the bottom, we heard thunder! This motivated us to climb as quickly as we could. We knew the peak had some exposed areas, it's a ski mountain, but it also has an enclosed ski patrol cabin where we could take shelter if we needed it.
The climb was a little longer and steeper than the other two, plus it was the last climb of the day. We pushed ourselves, though, and made it up pretty quickly. I had a lot of fun. It started raining not long after we started and continued the whole way up. It was never very hard, and it did keep us cooler.


As soon as we broke through the trees and saw the top of the ski lift ahead of us, the rain stopped! We could see blue sky!


As we crested the mountain, we could see the storm moving through the valley below. It was incredible.


We sat on the ski lift to eat a snack and watch the storm. As we watched, we noticed a huge rainbow emerging below us!


People kept spilling out of the ski patrol cabin to come look at the sky now that the storm had passed. We were all in awe of how beautiful it was.
As we finished snacking, I mentioned wishing I had brought something chocolate along. Sweet and Lo piped up- there was a trail magic bar of chocolate in the cabin!! He said it was giant and he'd been waiting for someone else to want to break into it, too! I immediately made moves to go eat it with him. We wound up sharing it among several of us. It was such a treat!!
The walk down Bromley was very cool. We walked down a ski slope for the first few minutes. It gave us more great views down to the valley.


At the turn off for the shelter about a mile later we ran into Pie and Weezy, who were headed up to camp on the summit. We also met a huge group of college students who had apparently gone the wrong direction and were trying to interpret their paper maps. They asked us which shelter we were at. We all pulled out our phones to check since we couldn't remember the name of it. We confirmed they were at the wrong shelter and encouraged them to stay put, it was late in the day and the one they wanted was 5 miles away!
Finally, we continued our descent. We made it down to the parking lot in the golden hour.


We had muddy feet from all the rain so we took our shoes off before hopping in Veronica. Once again, mommy fed us a yummy dinner and we went to bed, freshly showered.
Banana Bread also acted like our personal assistant while she was with us. I can't overstate how much easier our week was with her there to support us. We had a few gear items we needed to acquire or replace. Manchester actually had a great outfitter (outfitters have become quite scarce since we got to PA.) So that we didn't waste a trip, Banana Bread called over there to find out if they had what we needed. They did, so we planned to go there the next day.
Jackpot took us back to our same starting point at 7:30 the next morning. Sushi and Knees used the hostel ride so it was just us, again. This time we were back to going north. The morning was beautiful and easy. We walked around Little Rock Pond where we saw our first loon!!

We were admiring the pond and saw what we initially thought was a duck. Then the duck dove under water for at least a minute. Probably not a duck! We guessed it was probably a loon and had it confirmed when we passed the campsite caretaker a few minutes later. We continued to watch her preen and float around as we circled the pond. Neither of us has ever seen a loon before, it was very exciting!
She's the tiny white spot on the water..
Not long after the pond we got into a series of climbs (or PUDs- pointless ups and downs, aka when the trail goes up and down with no view and the up has no name.) The first one did take us to a "rock garden" but it wasn't very exciting.


I felt horrible during these climbs. I must have been dehydrated or not eaten enough. I just had no energy and felt light headed. Even after lunch I still felt awful and was in tears by the time we made it to the top of the last one.
Even while feeling bad, we still had a few fun moments. We met a friendly pair of hikers and their wonderful dog, Bennett, a big black standard poodle who let us pet his fluffy head. The hikers were local trail maintainers and told us about some historical sites we passed. There were several spots with ruins from long ago communities, some we had noticed and some we had not! I always want to know more about the history of the land we walk on, so I loved that chat.
We also passed a man with several bananas hanging off his fanny pack. I don't typically like bananas but they were at the stage of ripeness that I do like and it seemed like a sign that I should eat a banana. I felt so bad, I figured it wouldn't hurt.


Lucky for me we were doing a shorter day, only about 14 miles. But, we kinda had to rush those miles because we wanted to get to the outfitter before it closed! Somehow, we made it. We got to the parking lot at 3:30, our goal time! Banana Bread arrived not long after and we hopped in to head back to Manchester.
The outfitter had almost everything we needed. We got our chores done then celebrated with Ben and Jerry's, finally!!


After ice cream, Banana Bread suggested we stop by the very busy VFW to drop off some more beers and sodas before heading back to the campground. We thought that was a great idea! When we arrived we were surprised to find Lumen, Jazzy, Blue Skies, and Savory there!


We had dropped Lumen and Jazzy off 2 days ago! We did not expect them to still be there. They explained they had gone to the music festival the night before… and were going back tonight!
The music festival had been on our radar for a few days. Pinky learned about it, mostly because one of our favorite bands, The Punch Brothers, was playing THAT NIGHT. We had decided we wouldn't try to go… but now here we were, with the boys telling us to tag along!
Of course, we decided to go! Banana Bread was also down for the ride. It was quite the herd of cats, and the walk was WAY longer than we had been led to believe… but we made it! The last quarter mile or so of the drive way to the venue was done by squeezing about 10 of us into a truck bed. Banana Bread was getting the Full hiker trash experience.


The show was absolutely incredible. They played our favorite songs. I cried a lot.
Banana Bread had managed to find us some Heady Toppers, so we had the perfect Vermont beverages to go with our perfect Vermont evening.


And we matched the band! Chris Thile cheers'd the crowd with a Heady Topper during the encore! Basically we were in heaven.


At the end of the show, we managed to hitch another ride back (just the three of us this time) with the nicest local man. He dropped us at the VFW, we piled back into Vermontica, and we went back to our home sweet home campground. We were on cloud 9 from such an unexpected evening. My miserable mood was long gone.
This website contains affiliate links, which means The Trek may receive a percentage of any product or service you purchase using the links in the articles or advertisements. The buyer pays the same price as they would otherwise, and your purchase helps to support The Trek's ongoing goal to serve you quality backpacking advice and information. Thanks for your support!
To learn more, please visit the About This Site page.
Hi! We are aspiring AT thru hikers! We got married in March 2021 (and again in September 2021, long story.) The Brain has dreamt of completing an AT thru hike since she was a teenager and convinced Pinky to make this our honeymoon. We step off March 14, 2022.