On Jan. 19, Buzzed Bull Creamery brought its premium made-to-order alcoholic and non-alcoholic frozen dessert and coffee concept to the Scottsdale Waterfront. 
Buzzed Bull Creamery is a …
Already have an account? Log in to continue.
Current print subscribers can create a free account by clicking here.
Otherwise, click here to subscribe.


To Our Valued Readers –
Visitors to our website will be limited to five stories per month unless they opt to subscribe. The five stories do not include our exclusive content written by our journalists.
For $5.99, less than 20 cents a day, digital subscribers will receive unlimited access to YourValley.net, including exclusive content from our newsroom and access to our Daily Independent e-edition.
Our commitment to balanced, fair reporting and local coverage provides insight and perspective not found anywhere else.
Your financial commitment will help to preserve the kind of honest journalism produced by our reporters and editors. We trust you agree that independent journalism is an essential component of our democracy. Please click here to subscribe.
Sincerely,
Charlene Bisson, Publisher, Independent Newsmedia


Click here to see your options for becoming a subscriber.
Click here create a free account for posting comments. Note that free accounts do not include access to premium content on this site.
On Jan. 19, Buzzed Bull Creamery brought its premium made-to-order alcoholic and non-alcoholic frozen dessert and coffee concept to the Scottsdale Waterfront.
Buzzed Bull Creamery is a unique brand that invites customers to enjoy a fun, friendly, community-minded and indulgent experience outside of traditional bars and restaurants.
"When we first tried Buzzed Bull Creamery, we fell in love with the concept," Jay Shah, co-partner of the Scottsdale location, stated in the release. "Old Town Scottsdale is the prime location to open Buzzed Bull's first Arizona location and we can't wait for residents and visitors to give it a try."
Shah runs the location with his wife Nilam Shah and managing partner Dominick Davis.
Buzzed Bull is the first creamery in the country to infuse alcohol into ice cream using liquid nitrogen for a true "mad scientist experiment" effect that is fun for the whole family.
Adults can enjoy their favorite cocktails as decadent desserts while kids can customize their own sweet treats and watch their dessert being created before their very eye. Buzzed Bull's friendly vibe with ample seating and music encourages guests to come for the treats and stay for the experience.
Guests can get a taste of Buzzed Bull's specialties such as the "Death by Chocolate" that features chocolate, brownies, chocolate chips and chocolate sauce on top with or without the "suggested buzz" of chocolate vodka. Specialties can be made into ice cream or a milkshake and served either "buzzed" or non-buzzed.
Many of these selections can also be made into specialty latte drinks at the Buzzed Bull Espresso Bar, or served the Buzzed Bull way with a steamed ice cream base. Traditional coffee drinks such as mochas, lattes, macchiatos and cappuccinos are also available.
Sweets lovers can also make their own decadent cocktail, or mocktail, creation by selecting their frozen base, their base flavor and mix-ins or toppings of all sorts. Guests can then opt for their dessert to be served up "buzzed" or "non-buzzed" and finished off with extras like whipped cream, additional mix-ins or toppings and, of course, a non alcoholic or alcoholic cherry on top.
Business hours are Sunday through Wednesday 11:00 a.m. to 9:00 p.m., and Thursday through Saturday 11:00 a.m. to 10:30 p.m.
Festivities to celebrate the grand opening of Buzzed Bull will be released in the coming weeks.
For more information, visit www.buzzedbullcreamery.com.

Other items that may interest you
Most popular stories in Daily Independent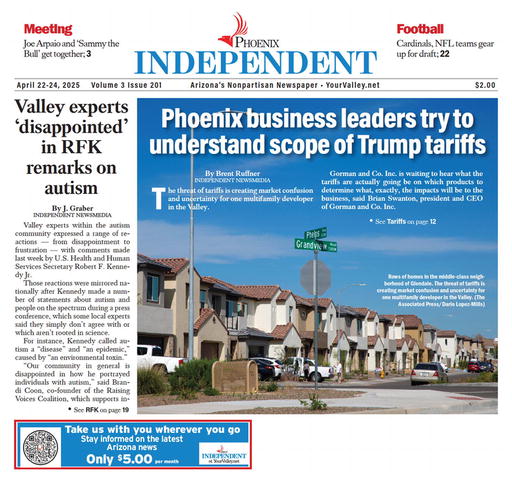 Read the latest print edition here.
View this issue
Browse other issues
DON'T MISS A BEAT: Simply submit your e-mail address below, click on the opt-in email link and watch your inbox for news from the Daily Independent at YourValley.net. Thank you for reading!
Three Chinese astronauts have landed in a northern desert after six months working to complete construction of the Tiangong station, a symbol of the country's ambitious space program. State TV …
1,700 dead seals found on Russia's Caspian coast
Lake wants election records now; Maricopa County says wait your turn
OPEC+ oil producers face uncertainty over Russian sanctions
Messi's sidekick Julián Álvarez flourishing at the World Cup
Arizona brings losing streak into matchup with Calgary


YourValley.net
623-972-6101
17220 N Boswell Blvd
Suite 230E
Sun City AZ 85373
Email: azdelivery@iniusa.org